Regular price
$66.99 USD
Sale price
$39.99 USD
Unit price
per
Sale
Sold out
Cyclo Test 90 caps, Infinite Labs, On Sale!
CYCLO TEST™ MAY HELP TO:
OPTIMIZE FREE TESTOSTERONE LEVELS*
ENHANCE NATURAL HGH LEVELS*
SUPPORT MINIMAL ESTROGEN IMPACT ON THE BODY*
PROMOTE STRENGTH, MUSCLE AND PERFORMANCE GAINS*
Infinite Labs® Cyclo Test™ acts synergistically with any bulking regimen to generate an ergogenic environment that significantly enhances free testosterone and Human Growth Hormone levels.* By combining unique components that work together to amplify the growth factor while simultaneously regulating estrogen levels, Cyclo Test™ has been specifically designed to increase your anabolic potential and help promote strength gains.*
Ingredients

The products contain the most advanced body building supplements for sale and ready to ship.
Shipping

Shipping is ether FEDEX or USPS
Share
View full details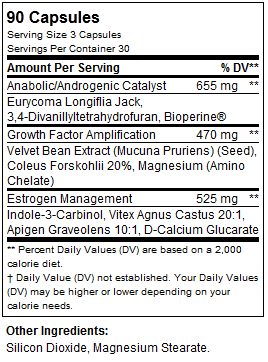 Description
Cyclo Test 90 caps, Infinite Labs, On Sale!
CYCLO TEST™ MAY HELP TO:
OPTIMIZE FREE TESTOSTERONE LEVELS*
ENHANCE NATURAL HGH LEVELS*
SUPPORT MINIMAL ESTROGEN IMPACT ON THE BODY*
PROMOTE STRENGTH, MUSCLE AND PERFORMANCE GAINS*
Infinite Labs® Cyclo Test™ acts synergistically with any bulking regimen to generate an ergogenic environment that significantly enhances free testosterone and Human Growth Hormone levels.* By combining unique components that work together to amplify the growth factor while simultaneously regulating estrogen levels, Cyclo Test™ has been specifically designed to increase your anabolic potential and help promote strength gains.*